Home » Categories » GMA Video Service (Roku)
How to Watch GMA Video on your iPhone, iPad, or Mac
Article Number: 264 | Rating: Unrated | Last Updated: Fri, Sep 26, 2014 at 8:25 AM
Watch GMA Video On Your iPhone, iPad, or Safari Browser on Your Mac

You can now watch GMA Video on your iPhone, iPad, iPod Touch, or with Safari on your Mac. To access the GMA Video App, simply open your Safari browser on your supported device and navigate to

www.gmavt.net/video and click on the channel you want to watch.

Please note that you must be

connected to your GMA high-speed Internet connection within your home (this is not a mobile service and will not function outside of your home

). Due to compatibility limitations, Android, Windows PC's and other mobile devices are not currently supported.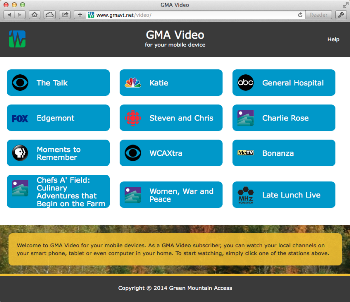 If you have any questions, please call Tech Support at 888-321-0815

Attachments
There are no attachments for this article.
Related Articles